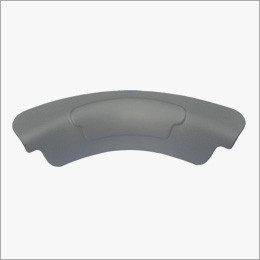 Description

Model ZT001
Size140x335mm
Material PU
Color Balck & Dark Gray(customizable)
EVA is the abbreviation of ethylene-vinyl acetate co-polymer, a new Eco-friendly material. So EVA bath pillows have the following advantages:
1.Water Resistance: Closed cell structure, non-absorbent, moisture-proof, water resistance is good.
2.Corrosion Resistance: Resistance to water, oil, acid, alkali and other chemicals corrosion, that immune to weathering.
3.Security: Anti-bacterial, non-toxic, tasteless, non-polluting.
4.Sound Insulation: Closed foam, effective sound insulation.
5.High Elasticity: Make you feel more comfortable and relax when you use it.
6.Beautiful Appearance: Fine texture or rough texture.
7.Eco-friendly: Recoverable and recycling.
8. It can be customized according to your requests.
14 Years experience
1.ISO9002 Certificate, Form A & CE Marking.
2. Wide range of Whirlpool Components offered.
3.This product attend the Canton Fair every year.
4.High quality with competitive price, good service and guarantee.
5.OEM avaliable.